What is my Blog & Work all about?
As an online media strategist, blogger and digital nomad, I mostly write about my daily work and life in London and abroad while working remotely. I share tips, news and advice about content writing, blogging, web and media strategy, marketing, SEO, managing websites, online presences and remote work.
I also share insights into my work and life as a digital nomad and how I work in London and travel and work abroad. 
I consider myself an expert those areas, but also have an education background through my previous career, which is reflected in my blogging content on several blogs I manage.
Digital PR & Press Coverage Examples
Below I share some examples of the different types and forms of content publications I can offer on the websites I manage. Simply click on each image to read the full post. 
My Top Tips for Guest Posting, Digital PR & SEO
I regularly share tips and recommendations based on my daily blogging, digital marketing, SEO and PR work so find out more in my blog posts.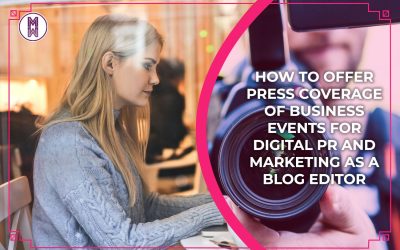 The beauty of starting a website or blog is that you often don't know exactly where the journey takes you. You begin with registering a domain and writing about topics that you're interested in and over time various categories emerge from your overall web content. The...
Writing effective copy for your website is tough. It's even tougher to write content that gets recognized by search engines, captivates your audience, and increases conversions organically. It is more vital than ever before to know how to write content that ranks...
Having a set of efficient SEO tools at hand as web content and copywriter can help you get better results and higher rankings, not only for your website but also for those of your clients. In my course "How to create SEO-friendly content" I cover and share some of the...
Despite this being my personal blog, where I am the main author, I am always happy to collaborate with other talented bloggers, writers and marketers.
If you have valuable knowledge, insights, tips, news or ideas that would be of interest to my audience, then I'd be happy to check out your pitch and get back to you with my thoughts.
I can provide various publication opportunities on this or other platforms as I know how difficult it is to get one's voice heard in the digital space. 
I am equally happy to consider potential partnerships that benefit readers and followers.
Platforms & Magazines For Publications & Coverage
For any contribution to be successful, it needs to fulfil certain criteria from my experience as an SEO content writer. Meaning, if content is supposed to rank and bank, it needs to tick the following boxes:
√ be relevant, trending, informative and engaging
√ be written in perfect English/German
√ contain reliable, rich sources and references also in visual formats
√ offer readers useful answers and solutions
√ contain relevant keywords, hyperlinks and media
√ contain engaging elements and CTAs
Below I share some blog posts that have ranked well on search engines and have attracted thousands of readers so far. And in these posts you will also find tips and techniques to write and publish SEO-friendly and engaging content. 
The concept of work from home or remote work was nearly unimaginable even a decade back and many couldn't imagine doing online jobs in Germany. Now it is considered the new normal, especially since the lockdown due to the global pandemic. The internet has opened up...
We have the world's information at our fingertips through internet search engines and some people are utilizing this feature by raising social consciousness. Social consciousness spreads awareness about what is happening in our society and world. Many businesses,...
For copywriter cubs finding their way in an online jungle filled with competitors with fiercely ferocious appetites for digital notoriety, fear not! In this post, I will guide you through the intricate ins and outs of resume or CV portfolio websites and how to not...
additional collaboration ideas
Let's Work Together
"None of us, including me, ever do great things. But we can all do small things, with great love, and together we can do something wonderful." – Mother Teresa
UK & London Coverage
Because I am based in the UK capital I mainly cover UK and London news and events, but I manage websites where I can also cover international news and I will make the most suitable recommendations as per each unique enquiry.
I love stories – tell me yours!