Digital PR & Press Coverage Services
As an online media and PR strategist and blogger I offer digital PR and press coverage services via the various platforms that I manage through digital marketing agency ClickDo Ltd. You can get your business news, announcements, events, interviews and expert tips published on any of our relevant online magazines and blogs and I can offer PR and marketing consultations for any specific requirements. 
Digital PR & Press Coverage Examples
Below I share some examples of the different types and forms of content publications I can offer on the websites I manage. Simply click on each image to read the full post. 
My Top Tips for Guest Posting, Digital PR & SEO
I regularly share tips and recommendations based on my daily blogging, digital marketing, SEO and PR work so find out more in my blog posts.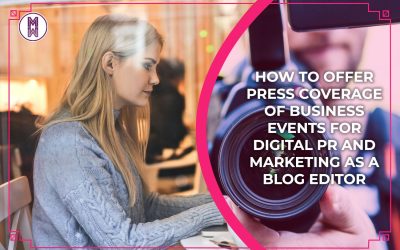 The beauty of starting a website or blog is that you often don't know exactly where the journey takes you. You begin with registering a domain and writing about topics that you're interested in and over time various categories emerge from your overall web content. The...
Writing effective copy for your website is tough. It's even tougher to write content that gets recognized by search engines, captivates your audience, and increases conversions organically. It is more vital than ever before to know how to write content that ranks...
Having a set of efficient SEO tools at hand as web content and copywriter can help you get better results and higher rankings, not only for your website but also for those of your clients. In my course "How to create SEO-friendly content" I cover and share some of the...
Who is Digital PR & Press Coverage for?
Any organisation, business or entrepreneur that wants to gain more visibility on the web can submit an enquiry to me with their particular requirements, needs and wishes for their publications and coverage. I will then offer the most suitable options we can offer with our platforms and magazines. We will tailor any content we publish for you, whether it's an interview, business feature or expert guest post to your branding. 
Platforms & Magazines For Publications & Coverage
What does it take to get published?
If you have a relevant story, expert opinion, valuable information or advice, important announcement or anything else that you think we should cover, pitch your ideas, suggestions or drafts to me for review and I'll inform you about the full publication procedure beforehand, so you know exactly what is required. 
UK & London Coverage
Because I am based in the UK capital I mainly cover UK and London news and events, but I manage websites where I can also cover international news and I will make the most suitable recommendations as per each unique enquiry.
I love stories – tell me yours!