Are you lost in the world of web hosting control panels?
I feel your pain! When I started out as a blogger and digital nomad, I had no clue about what a hosting control panel is and how it works or what it can/should do. 
So, I thought I will do you a favour and present a selection of the most highly rated domain hosting control panels for bloggers by bloggers that have emerged since the first ever control panel, cPanel, was launched in 1996 and changed web hosting for its users significantly with its interface and automation tools to manage website hosting more easily. 
I have used cPanel before and many web hosts, including SeekaHost where I host my websites, still offer web hosting with cPanel as it remains a market leader. However, many innovative control panels have been developed since 1996 and they offer features that cPanel doesn't, which is why it is advisable to compare them first before choosing one. 
So, without much further ado, let's get into the matter. 
What exactly is a Web Hosting Control Panel?
A web hosting control panel is a web-based graphical user interface tool used by online providers to manage their website and hosting account and their hosting servers. 
Hosting control panels are one of the most effective methods to monitor all hosting services via a web browser or through a particular app based on availability. 
Every hosting company offers different hosting control panels to their clients along with web hosting plans and various other features. The user experience with a domain hosting control panel differs from one brand to another. 
Some control panel tasks include account administration, domain management, email management, server installation, FTP, database management, file management, and schedule back-ups, but each panel may only provide a selection of such features.
Why you need a Web Hosting Control Panel & how it works?
To host domains and create websites as well as connect your website with web servers you will need to use a hosting control panel, especially if you're not into coding. 
Web hosting control panels are the platforms that provide you with an interface and tools to interact with your website's server and they usually come with the hosting you purchase from your hosting provider.
Domain hosting control panels make the website and server management much easier for people without much technological know-how and therefore everyone should use one. There are certain features that all control panels offer and some that are unique, and you should compare them first before choosing one. 
Each control panel should offer at least these 3 variations:
Different interface
Different design
Different tasks management methods
Most web hosting control panels will equip you with the following features which is why you need one:
Manage your website and domain

 

Create and use branded email addresses
Access important website and hosting

metrics

Manage security features like SSL certificates
Set up your database and blogging platform
Install additional software and apps
Differences in the layout and navigation can impact the user experience significantly and you should therefore test a control panel first or read reviews about it before purchasing it with your web hosting.  
Your choice of choosing the best control panel may be based on the operating system and the features offered by the hosting company. Typically, Linux-based plans and Windows hosting plans are the main OS types available. 
Bloggers will certainly require their chosen hosting control panel to offer the following features for the best blog hosting experience:
One-Click CMS Installations supporting WordPress, Joomla! etc.
DNS (domain name server) Management
One-Click SSL Integration
Email Hosting
Because I only use WordPress for my blogs, I will list the top 5 web hosting control panels for WordPress Hosting along with their stand-out features that are a great alternative to cPanel and at the end you will also find cPanel so you can see the difference.
Top 5 most highly rated Web Hosting Control Panels by Bloggers for WordPress (plus cPanel at the end)
1. SeekaPanel
Website: https://www.seekahost.app/
Innovative web hosting control panel designed specifically to host WordPress websites in a few seconds – the fastest performance out there. You can host your PBNs with the best private blog network control panel on multiple IP addresses of class A, B, C. Learn more here about PBNs and PBN hosting to understand the difference between WordPress Hosting. 
SeekaPanel is easy to handle, even beginners can host their sites without facing any technical difficulty with the SeekaHost App's interface. Host your private blog networks more securely on Class C IP addresses with the SeekaPanel. 
🔎 SeekaPanel is highly recommended by WordPress developers and bloggers, check the reviews below:
Vashishtha Kapoor SeekaPanel Review
Bloggers Ideas SeekaPanel Review
OS: CentOS (Linux)
Top Features of SeekaPanel:
Unlimited access to all hosted domains with a single click
Easy to monitor website's performance data in the account
Integration of Analytics tools features
DNS Management

 

1-click SSL certificate, WordPress installation and upgrade or downgrade option for WP and PBN hosting plans
One free email hosting account included
Free access to WP tutorials and SEO courses offered by SeekaHost University.

 

Live chat support and ticket support
💰 WP Hosting from $1 and PBN Hosting from $0.95 per month – no additional/hidden fees like set up fees or registration fees, can start with 1 domain. 
2. Plesk
Website: https://www.plesk.com/
Plesk is a popular user-friendly web hosting control panel designed for Windows and Linux operating systems. The Plesk administrator model is flexible for dedicated and shared hosting and its focus is on providing strong security for modern website hosting. Plesk is scalable, and secure, and it is suitable for more complex WordPress business websites and e-commerce sites with its features, hence why web developers like to use it. SeekaHost also offers WordPress Hosting with Plesk. 
🔎 Not many bloggers have reviewed Plesk as it appears to be mainly used by web developers and software engineers. They share the benefits of the complex features:
OS: Windows, Linux
Features of Plesk: 
Easily host and manage multiple websites in one single dashboard.
One platform to install, remove and manage the plugins, themes, and backup features for websites.

 

Provides high server security.

 

Manage several email accounts for all hosted domains.

 

DNS Management
SSL Integration
Dedicated customer support
💰 Dedicated Hosting and VPS Hosting from $9 per month – minimum 10 domains to host and fees may change after trial period.  However, many web hosts will offer more affordable hosting options with Plesk such as SeekaHost's WordPress Hosting starting at $3 for one site. 
3. DirectAdmin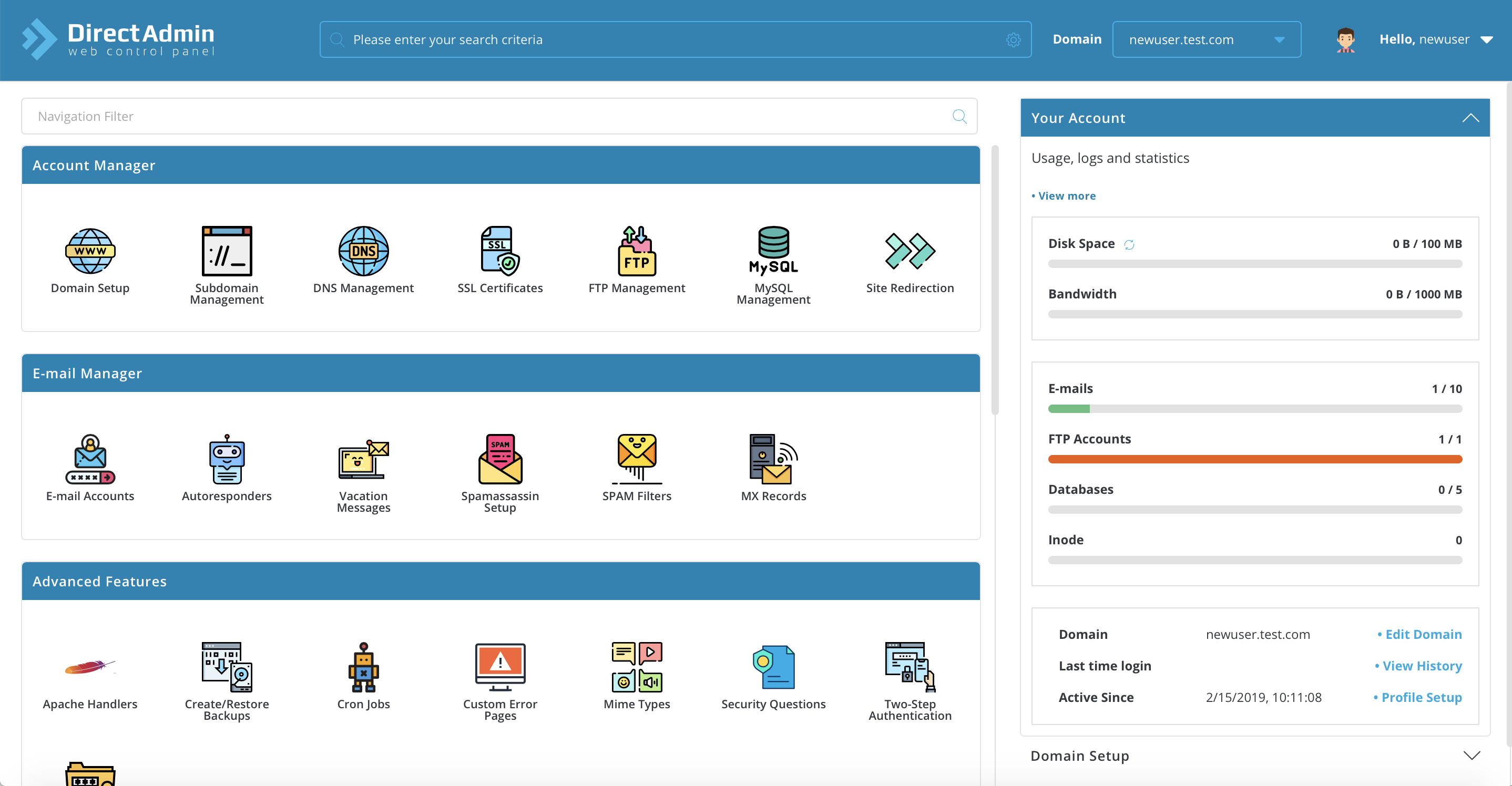 Website: https://directadmin.com/
Direct Admin is an established web hosting control panel offering advanced GUI features and administration tools for DNS and email management, backups, integrated file management and multi-server setup, including advanced features like custom web server configuration.
Due to the feature of a multilingual interface, you can easily manage it in all languages. Its graphical web-based interface makes the administration process easier.
🔎 Reviews in comparison with other control panels can be found by experts and writers highlighting the pros and cons:
OS: Linux, FreeBSD, Ubuntu
Features of DirectAdmin:
Provides effective email administration

 

Softaculous allows to auto-install web applications with a single click
Password protection for directories
Manage all users by using an integrated administrative token system
Resellers can provide customized nameservers for their clients
SSL activation featured
💰 DirectAdmin offers a free trial version for one account and a licence to manage 10 domains costs $2 per month. You should check for web hosts offering hosting with DirectAdmin, like Flaunt 7, if you want to test this panel. But check the hosting plans carefully as often they will be free initially and then go up. 
4. Virtualmin
Website: https://www.virtualmin.com/
Virtualmin is an effective and flexible hosting control panel to host and manage multiple domains with a complex interface and it is integrated with Webmin, another control panel. Virtualmin is the most popular alternative to cPanel and Plesk, probably because the professional version (paid option) allows users to set up or update some of the most popular content management systems like WordPress, Joomla and Magento. The Virtualmin panel is designed to manage websites, mailbox users, databases, and web applications at both the user and admin end.
🔎 Not many independent reviews can be found but here are some emphasising the free version and features:
Make Tech Easier Virtualmin Review
OS: Linux, open-source version. 
Features of Virtualmin: 
Powerful and flexible hosting control panel
Good alternative to cPanel and Plesk
Single web interface to manage multiple systems
Options for spam and virus filtering

 

Improved UI and enabled mobile access
Email hosting included with paid version
Dedicated customer support with paid version
💰 Free GPL open-source version is available, but not easy to use/install for beginners. Paid version starts from $6/month or $60/year for up to 10 websites. Other web hosts offer Virtualmin like Logic Web – they offer the Webmin integration, which is linked with Virtualmin and the hosting starts at $15 per month for one site. 
5. Interworx
Website: https://www.interworx.com/
Interworx is a secure web hosting control panel for hosting providers, resellers, and website owners. It runs on a VPS system and is also a dedicated server, which allows to expand from a single server into a complete, load-balanced cluster. It supports mobile devices and is classified into two modules: Nodeworx for managing the servers and Siteworx for managing the websites and domains.
🔎 Software developer reviews are available for your reference but are a few years old and it appears that the reviews highlight the complexity of the panel:
OS: RedHat Enterprise Linux, CentOS
Features of Interworx: 
Simple and centralized hosting management
1-click installations through Softaculous
Clustering multiple servers

 

Having advanced features of domain key signing, remote email delivery system, and domain management
Easy to schedule backups
Email hosting included
SSL activation available
💰 Licences start at $20 per month for unlimited domains and bulk licences for $5, but it is not clear if it is monthly or per licence. They also offer a free test version. Web host Monovm offer VPS hosting with Interworx starting at $30 per month.  
Now that you are familiar with the cPanel alternatives, you should also check what cPanel offers so you can compare them. 
6. cPanel
Website: https://cpanel.net/
It provides a Linux-based graphical interface and automation tools to make the website hosting process straightforward. cPanel is a third-party web-based application, and it allows you to publish your websites, manage domains, web files, email accounts, and so on. cPanel is recommended mainly for developers & IT experts, corporations with IT departments and web designers. 
🔎 cPanel reviews can also mainly be found by web developers and IT experts, emphasising the specifications and cost:
Tom's cPanel Hosting Panel Review
OS: Linux 
Features of cPanel:
cPanel supports virtual machines like VMware, Hyper-V, KVM, and VirtualBox.

 

Simple mail configuration and provides spam detection features in mail communication.
cPanel comes with built-in security mechanisms including high-end password protection, SSL/TLS, and firewall protection.

 

Efficient file manager to monitor the storage space for creating backups.

 

DNS Management
1-click WordPress installation
💰 Web hosting for one account from $15 per month, but for bulk accounts per-month pricing for partners is $0.175 each. However, many web hosts will offer more affordable hosting options with Plesk such as SeekaHost's WordPress Hosting starting at $3 for one site. 
Final Verdict for the best cPanel Alternatives
All the above-mentioned hosting control panels have different and similar advanced features as you may have noticed. Hence why it is advisable to chose one that suits your preferences most. 
The listed control panels will mostly affect the individual user experience and organization and as you saw, not all web hosts offer all control panels. It is therefore important to choose the best web hosting in combination with the most suitable control panel for your requirements. 
So, whether you are an IT expert, web developers or designers looking for more technically advanced configurations in a control panel for optimal website management or you are a blogging beginner looking for a simple and basic web hosting and management experience, your needs will determine your ultimate choice. 
Go for…
A complex but comprehensive control panel like cPanel, if you're after specific customizations such as tools for managing several servers, branding opportunities for resellers and if you can afford to pay a much higher price.

 

A control panel with various features like Plesk that allows the clients to be more in control, reducing the administrator's workload by structuring its databases better for customers, if you're a reseller.
An extremely affordable and sleek control panel like the SeekaHost's SeekaPanel offering an easy interface for digital novices that have never used web hosting or a control panel before, if you're looking for a simple yet professional solution. SeekaHost also offers web hosting plans with cPanel and Plesk too so you can compare each.

See my video about the advantages of the SeekaPanel below:
cPanel is the most famous control panel as it was the first one in the market and a market leader for years, but many other control panels have emerged ever since that offer website owners a wide variety of options that cPanel does not.
Choose the web hosting control panel that will give you the best long-term experience with your ideal web hosting service so that you will be happy to host and manage all your websites with it also in terms of your budget. 
Moving or transferring domains is not easy and you should make sure that the control panel and web hosting of your choice offers you easily accessible customer support. 
But the most important factor is that you like the look and feel of it and that you enjoy using it. So, get online with the best web host and web hosting control panel to ensure that your online presence is in the best of hands. 
Blogger and Educator by Passion | Senior Online Media & PR Strategist at ClickDo Ltd. | Contributor to many Education, Business & Lifestyle Blogs in the United Kingdom & Germany | Summer Course Student at the London School of Journalism and Course Instructor at the SeekaHost University.